Apple 32GB iPod Touch –Current Gen
Limit 3 per customer
Hurry only 1 left!
add to cart
FaceTime
iCloud
Music
Games
HD Video Recording
Top Profile
Bottom Profile
Power Button and Camera Lens
Back Profile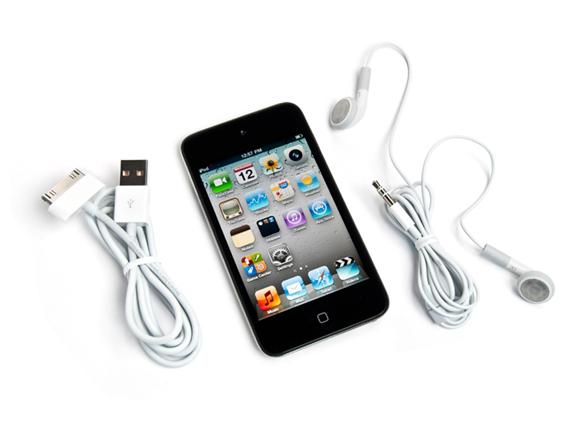 Package Contents
Features
FaceTime: FaceTime brings video calling to iPod touch, so now you can see your friends and talk to them. New iPod touch to new iPod touch or iPhone 4 over Wi-Fi
Retina Display: Images pop off the screen with the remarkable 960 x 640 resolution and four times the number of pixels than the same size screen found on earlier iPod touch models. The pixel density is so high (each pixel is only 78 micrometers wide and there are 326 of them per inch), the graphics and text look smooth and continuous at any size. The retina display includes

LED

backlighting and an ambient light sensor that automatically adjusts the brightness of the screen for the best viewing and battery life possible

HD

Video Recording: Built-in HD video camera with advanced backside illumination sensor delivers brilliant video in both bright and low-light settings. Basic video editing is built into iPod touch. Just drag to select start and end points on a filmstrip. Keep only the parts of the video you want. In addition to the high-definition camera on the back, iPod touch has a

VGA

-quality camera on the front that lets you see yourself on the display while you record. It's perfect for recording yourself. Upload your HD movie directly to YouTube or Mobile Me. Or select some video from the Camera Roll and attach it to a new email message. Posting to Facebook or blogs is just a tap away. All the video you shoot can be easily synced back to your Mac or PC
Game Center: With tens of thousands of games and other applications, iPod touch has more games than any other platform. The A4 chip (the same technology as in iPhone and iPad) makes iPod touch more powerful and more power efficient. Additionally, the Game Center app lets friends and unknown foes in on all the action. Invite someone to join or choose to go up against people you don't know from anywhere around the world in a multiplayer game. Download any games you see by tapping links. Create a nickname and assign it to several email addresses to the app, making it easy for more friends to find you. All anyone needs to play is an iPod touch or iPhone running iOS 4.1
Music: With Cover Flow, you can turn iPod touch on its side and glide through your music by album art. Tap an album cover to flip it over and display a track list. Tap again to start the music.
Genius: Genius acts as your personal DJ. Genius uses your favorite songs to find other songs like it in your library to make a playlist you wouldn't have thought of. Listen to the playlist immediately, save it for later, or even refresh it and give it another go. Additionally, when you sync your iPod touch to iTunes, Genius automatically searches you library to find songs that sound great together. Then it creates multiple mixes that are like channels programmed entirely with your music
Movies and

TV

Shows: Carry hours of video with you and watch them anytime on the amazing 3.5-inch color widescreen Retina display. Shop the iTunes Store and choose from thousands of movies, TV shows, and video podcasts to fill your iPod touch. Download and watch movies with a few taps. Prefer TV shows? Get a single episode or an entire season's worth all at once
On Screen Controls: While watching your video, tap the display to bring up onscreen controls. You can play or pause, view by chapter, and adjust the volume. Or use the volume controls on the left side of iPod touch. Want to switch between widescreen and full screen? Simply tap the display twice. It's just like your TV remote
Browse Apps: Shop the App Store a number of ways. Tap 'Featured' and get a list of new apps and to see what's hot. Peruse by category. Check out the Top 25 apps. Or if you know exactly what app you're looking for, find it with a quick search. And Genius does for your apps what it does for your music. Tap the Genius icon and get recommendations for apps you might like based on apps you and others have downloaded
iTunes: The Wi-Fi capability built into iPod touch lets you access the iTunes Store, where you can choose from millions of high-quality

DRM

-free songs and thousands of movies, TV shows, audiobooks, free podcasts, and iTunes U lectures. Browse New Releases, Top Tens, and Genres. Or find exactly what you're looking for by typing in a quick search. Play a preview of any song or video, then tap once to buy it. Not sure if a movie or TV show is worth owning? Just rent it. Everything you buy on iPod touch is the same price you pay on the iTunes Store on your computer
iTunes Ping: Follow friends to find out what music they're listening to, buying, and recommending. Catch up with your favorite artists and see if they're playing near you. That way, you'll never miss another show. You can even see which of your friends are planning on going to the show
Sync with iTunes: When you connect iPod touch to your computer, the music, movies, TV shows, audiobooks, and podcasts you downloaded on the go sync to your iTunes library on your Mac or PC. If you've partially downloaded something on iPod touch, your computer completes the download automatically
Email: iPod touch supports rich

HTML

email, so images and photos appear alongside text. And you see email attachments in their original formats, not stripped-down versions. Rotate, zoom, and pan in more than a dozen standard file and image formats, including

PDF

, Microsoft Word, Excel, PowerPoint, and iWork. Need a hard copy? AirPrint lets you print right from your iPod touch. Just tap to take a photo, homework, or spreadsheet attachment from onscreen to on paper (requires an AirPrint-enabled printer). No matter how many email accounts you have, iPod touch helps you stay in touch. Access your email accounts from popular providers — MobileMe, Google Gmail, Microsoft Exchange, Yahoo! Mail, and

AOL

— and most industry-standard

IMAP

and

POP

mail systems
Safari: iPod touch is the only iPod with built-in wireless access to the web. Whenever you're connected via Wi-Fi, you can surf the web with Safari. Thanks to the fast A4 chip, web pages render quickly. The high-resolution Retina display renders pages beautifully, with perfectly crisp text and bright, vivid graphics. And if you're looking for an exact word or passage, do a quick text search. If it's on the page, Safari will find it
Bookmarks: iPod touch syncs your bookmarks from your PC or Mac, so you can access your favorite sites quickly. It has Google, Bing, and Yahoo! search built in. If you check a website frequently, create a Home screen icon, or web clip, for it. Make web clips with Safari, and your favorite sites are always just a tap away
Photos: Show thousands of photos from the palm of your hand. Flick to scroll through thumbnails. Tap to view full screen. Play slideshows, complete with music and transitions. Email a photo to a friend or share it in a MobileMe gallery. If you receive an image in an email, save it to your photo library on iPod touch. Once there, it's just like any other photo. You can set it as your wallpaper, share it on the web, or pass it on. iPod touch uses iTunes to sync photos you have in iPhoto on a Mac or in Adobe Photoshop Elements 8 on a PC. Just choose which photos or albums to sync to your iPod touch, then you can look at them and share them anywhere you go.
Home Screen: The Home screen is where you'll find all your apps and folders. You can have up to 11 Home screens and browse them with a flick. And even if you're in the middle of playing a game, you can get to any app easily by pressing the Home button. Arrange the icons on your Home screen any way you want right on iPod touch or from your computer using iTunes. Move apps around, group them into a folder, or add them to another Home screen for quick access to the games and applications you download from the App Store and to your Safari web clips
Multitasking: When you double-click the Home button, the multitasking user interface pops up, giving you quick, one-tap access to your recently used apps. When you switch back and forth between them, the apps can pick up right where you left off. You can also lock your iPod touch screen in portrait view. Flick to the right of the multitasking menu and tap the rotation lock to keep your screen looking just the way you want
Search Across Your iPod touch: Search the entire contents of your iPod touch, all from one place. On your main Home screen, just swipe to the right to bring up Search. Type what you want to find, and Search begins looking through all of your apps, music, videos, contacts, email, calendars, notes, and even your audiobooks and podcasts
Voice Control: Voice Control knows the music in your iPod touch. Want to hear something specific? All you have to do is ask. For instance, say "Play artist Bob Dylan," and iPod touch does just that. Ask what song is playing and hear iPod touch answer. Tell it to play your favorite album, artist, or playlist. Speak simple commands such as "shuffle," "next song," and "pause." Even have iPod touch play more songs like the one you're listening to
Maps: iPod touch pin points your location on a map and displays what's around you using known Wi-Fi hotspots. It also finds point of interest by keyword. For instance, search for "coffee" and iPod touch shows cafes near you
YouTube: Tap 'Share' on any YouTube video detail page, and iPod touch creates an email with the video link already in it. Or gather everyone around the TV for some group laugh therapy. AirPlay lets you stream YouTube videos straight from your iPod touch to your Apple TV. (AirPlay is only compatible with the latest generation Apple TV.) Search YouTube using a keyword or browse Featured, Most Viewed, Most Recent, and Top Rated videos. Once you find what you're looking for, bookmark it to watch later. Or upload your video to YouTube with just a tap in the Camera app… recorded, of course, in brilliant high-definition
Nike + iPod: Slip the Nike + iPod Sensor (available separately) into your Nike+ shoe and start your run. The sensor communicates wirelessly with your iPod touch, tracking your time, distance, and calories burned. It even gives you voice feedback on your progress. This feature also works with new cardio equipment available in many fitness centers. Just look for Nike + iPod compatible treadmills, ellipticals, stair steppers, and stationary bikes
Sync Wirelessly with nikeplus.com: Now you can wirelessly send workout data from your iPod touch to nikeplus.com, where you can track your workouts, set goals, and challenge friends
AirPrint: AirPrint on iPod touch makes it simple to print your email, photos, web pages, and documents. There's no software to download, no drivers to install, and no cables to connect. With just a few taps on your iPod touch, you can go from viewing something onscreen to holding a printed copy. And because all the printing takes place in the background, there's no waiting around. Instead, you can start printing and then go back to flicking through photos, surfing the web, or doing whatever you were doing before. iPod touch automatically locates and connects to AirPrint-enabled printers on your wireless network. Whether you're on the other side of the house or on another floor from your printer, you can still print what you need, when you need it. AirPrint works with Safari, Mail, Photos, PDFs in iBooks, and third-party apps with built-in printing. If you can open it on your iPod touch, chances are you can print it with AirPrint
AirPlay (Only compatible with the latest generation Apple TV): All the great media on your iPod touch — your music, photos, and video — can now stream wirelessly to your

HDTV

and speakers via the new Apple TV. Just make sure your iPod touch is connected to the same Wi-Fi network as your Apple TV, and the AirPlay icon automatically appears. Then, if you're in the middle of an epic action scene that could use a little more screen, just tap and it appears on your TV in a matter of seconds
AirPort Express (sold separately): Stream music wirelessly right from your iPod touch with AirPort Express. Just connect any speaker you own to an AirPort Express. Or stream directly to AirPlay-enabled speakers from manufacturers like Denon, Marantz, B&W,

JBL

, and iHome. Your iPod touch automatically detects your speakers, so all you have to do is tap the one you want to hear. Since it all happens wirelessly, you have the freedom to cue the tunes from wherever you happen to be sitting, standing, or dancing
Voice Memos: Record any audio you want using the built-in mic on iPod touch or an external mic. Voice Memos will even record while you use your iPod touch to do things such as check email or surf the web. You can trim recorded memos right on iPod touch. That way, you keep only what you need. Keep all your memos organized by choosing labels from a predefined list or by creating custom labels. Send memos to your friends, classmates, and co-workers via email. Memos you record on iPod touch sync back to your Mac or PC via iTunes, so you can share them later
Find My iPod touch: If your iPod touch is misplaced, Find My iPod touch will display its approximate location on a map. This feature is a part of MobileMe and free on every iPod touch 4th generation with iOS 4.2. You can sign in to me.com from any computer web browser or using the Find My iPhone app on another iPod touch, iPhone, or iPad. You can write a message and display it on your screen. Something like, "Oops, left my iPod behind. Please call me at 408-555-0198." Your message appears, even if the screen is locked. And if the map shows that your iPod touch is nearby yet you still can't find it, you can tell Find My iPod touch to play a sound that overrides the volume or silent setting. If you realize that you left your iPod touch in a public place, you may want to protect its contents until it's safely back in your hands. Remotely set a four-digit passcode lock to prevent people from using your iPod touch, accessing your personal information, or tampering with your settings. If you lose your iPod touch and displaying a message on it hasn't resulted in its safe return, you can initiate a remote wipe to restore it to its factory settings. If you eventually find your iPod touch, just connect it to your computer and use iTunes to restore the data from your most recent backup
The Postal Service now forbids shipping lithium batteries, or any items containing them, outside the US. We need a stateside physical address within the 48 contiguous states to ship your order to. Sorry, APO/FPO customers.
Warranty: 90 Day Woot Limited Warranty
Specs
Size and weight:
Height: 4.4 inches (111.0 mm)
Width: 2.3 inches (58.9 mm)
Depth: 0.28 inch (7.2 mm)
Weight: 3.56 ounces (101 grams)
Capacity:
Wireless (Internet access required; broadband recommended):
802.11b/g/n Wi-Fi (802.11n 2.4GHz only)
Bluetooth® 2.1 +

EDR

Maps-location based service
Nike + iPod support built in
Display:
3.5-inch (diagonal)
Widescreen Multi-Touch display
960-by-640-pixel resolution at 326 pixels per inch
Audio:
Frequency response: 20Hz to 20,000Hz
Audio formats supported:

AAC

(8 to 320 Kbps), Protected

AAC

(from iTunes Store), HE-AAC,

MP3

(8 to 320 Kbps),

MP3 VBR

, Audible (formats 2, 3, 4, Audible Enhanced Audio,

AAX

, and

AAX

+), Apple Lossless,

AIFF

, and

WAV

User-configurable maximum volume limit
Headphones:
Earphones
Frequency response: 20Hz to 20,000Hz
Impedance: 32 ohms
TV and Video:
H.264 video up to 720p, 30 frames per second, Main Profile level 3.1 with

AAC

-LC audio up to 160 Kbps, 48kHz, stereo audio in .m4v, .mp4, and .mov file formats

MPEG

-4 video, up to 2.5 Mbps, 640 by 480 pixels, 30 frames per second, Simple Profile with

AAC

-LC audio up to 160 Kbps per channel, 48kHz, stereo audio in .m4v, .mp4, and .mov file formats
Motion

JPEG

(M-JPEG) up to 35 Mbps, 1280 by 720 pixels, 30 frames per second, audio in ulaw,

PCM

stereo audio in .avi file format
Support for 1024 by 768 pixels with Dock Connector to

VGA

Adapter; 576p and 480p with Apple Component

AV

Cable; 576i and 480i with Apple Composite

AV

Cable (cables sold separately)
Cameras, Photos, and Video:
Video recording,

HD

(720p) up to 30 frames per second with audio; still photos (960 x 720) with back camera

VGA

-quality photos and video up to 30 frames per second with the front camera
Tap to control exposure for video or stills
Photo and video geo tagging over Wi-Fi
Input and Output:
30-pin dock connector
3.5-mm stereo headphone minijack
Built-in speaker
Microphone
External Buttons and Controls:
Sleep/wake
Volume up/down
Home
Sensors:
Three-axis gyro
Accelerometer
Ambient light sensor
Battery and Power:
Built-in rechargeable lithium-ion battery
Music playback time: Up to 40 hours when fully charged
Video playback time: Up to 7 hours when fully charged
Charging times: Fast charge in about 2 hours (80% capacity), full charge in about 4 hours
System Requirements:
USB 2

.0
iTunes 10.1 or later
Mac: Mac

OS X

v10.5.8 or later
PC: Windows 7, Windows Vista, or Windows

XP

Home or Professional (SP3) or later
Broadband Internet access required; fees may apply
Environmental Requirements:
Operating temperature: 32° to 95° F (0° to 35° C)
Nonoperating temperature: -4° to 113° F (-20° to 45° C)
Relative humidity: 5% to 95% noncondensing
Maximum operating altitude: 10,000 feet (3000 m)
In the box:
Apple 32GB 4th Generation iPod Touch, Model No.

MC544LL

/A
Dock Connector to

USB

Cable
Earphones
Quick Start Guide
Sales Stats
Speed to First Woot:

20m 4.115s
Last Wooter to Woot:

timt
Purchaser Experience
4%

first woot

6%

second woot

26%

< 10 woots

38%

< 25 woots

26%

≥ 25 woots
Purchaser Seniority
4%

joined today

2%

one week old

2%

one month old

13%

one year old

79%

> one year old
Quantity Breakdown
96%

bought 1

4%

bought 2

0%

bought 3
Percentage of Sales Per Hour
| | | | | | | | | | | | | | | | | | | | | | | | |
| --- | --- | --- | --- | --- | --- | --- | --- | --- | --- | --- | --- | --- | --- | --- | --- | --- | --- | --- | --- | --- | --- | --- | --- |
| | | | | | | | | | | | | | | | | | | | | | | | |
| 12 | 1 | 2 | 3 | 4 | 5 | 6 | 7 | 8 | 9 | 10 | 11 | 12 | 1 | 2 | 3 | 4 | 5 | 6 | 7 | 8 | 9 | 10 | 11 |
Percentage of Sales Per Day
| | | | | | | |
| --- | --- | --- | --- | --- | --- | --- |
| | | | | | | |
| Mon | Tue | Wed | Thu | Fri | Sat | Sun |
Woots by State
zero wooters wooting
lots of wooters wooting